Meet Your Host & Outfitter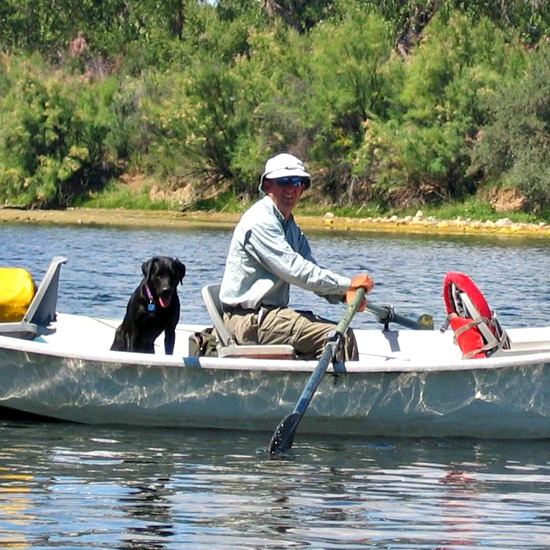 Mike Hillygus
Mike Hillygus (aka Hilly, Gus or anything with four letters) is a Taft California native, from 8 years old until 22 (1968-1982). He spent his summers on Wyoming's Miracle Mile (2 weeks), Idaho's Henry's Fork, the Box Canyon (2wks), and finished up on the Madison for a month. So when Mike and wife Pam moved to Missoula, Montana in 1987 it was no surprise he put his culinary & teaching talents to work as an outfitter in the summer of 1994, and the rest is history.
High Plains Drifter has had permits on six different rivers, including a 17 year run on the fabled Smith River. Mike opened the Stillwater River Outpost in 2006 and followed up with the Clark Fork Outpost in 2013, he may be the only outfitter in the state with 2 lodges. (You might want to fact check this…fake news and all)
Boat

: I live in a 1996 14′ North West Drifter made by Clackacraft, it's the best boat on the river and

of course they don't make it anymore!

Favorite Fly to Guide With

: The one and only MFC Bullethead Skwalla.

Favorite Fly to Fish

: Any Streamer/

bigger=better

Favorite Water

: The Stillwater, because it is anything but still and provides so many opportunities.

Favorite Type of Fishing

: Saltwater…East Cape of Baja

Favorite Fish

: The man, Roosterfish

Biggest Fish Lost

: Tarpon 90+ looked big enough to saddle and ride.

Dream Destination

: Any place that is sunny, salty and warm.

When Not Fishing

: Hunting birds with my English Labs in Nevada, Idaho, and Arizona.

And one time a client asked me

: "Will the river take us back to the car?"
High Plains Drifter also operates the Stillwater River Outpost near Absarokee, Montana. The Stillwater River Outpost is located in a secluded part of Montana, this is a big state and it is full of trout, but this little section of it is something special. If you are interested in trying out fly fishing for the first time or just interested in fishing a new river, then we have something for you. The size and type of river is different from the Clark Fork, but it still includes that special High Plains Drifter touch.